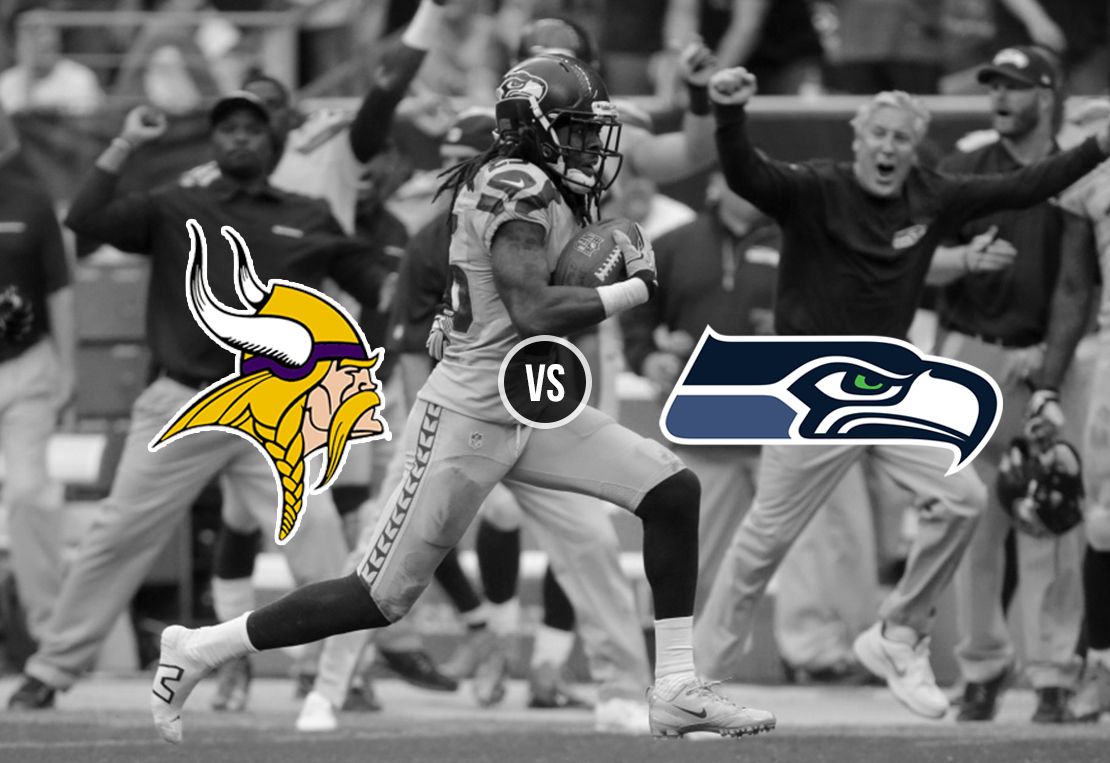 11.15.13
Pre-game Thoughts vs. Vikings
Posted by:
Richard Sherman
Last week was a huge road victory for this team. It was great to get a win down in Atlanta, after a disappointing loss last year. With the bulk of our road games behind us, we are excited to return home and play 4 of our last 6 games in front of our 12's at C Link! It is important that we maintain a 1-0 mentality, and keep this season rolling in the right direction.
Our offense has continued to improve each week, with a fine job on 3rd down production and red zone efficiency. Their competitiveness and "next man up" mentality is a big reason why they have been so successful this year. We have had a lot of guys step up and do a strong job filling in for injured players. Our coaching staff has done a great job of utilizing our depth to allow injured players to get back to 100%. Russell and Marshawn continue to impress me with their play-making abilities and leadership. Russell has done a great job leading this offense and finding ways to get in the endzone. It is hard to believe that this is only his 2nd year in the league! Marshawn has been in beast mode all year, and has been a big part of our success. He is a very hard, physical runner that has the ability to shed tackles and fight for extra yardage. These abilities are what makes him one of the most elite backs in the NFL. Both Marshawn and Russell will be a very important factor in balancing our air and ground game this week, against a very talented Vikings defense.
Defensively, we have continued to make big strides. The depth of this defense is what makes it so special. A lot of guys have stepped into action, and played very well! Our 2's and 3's are loaded with talent and capable of starting for a lot of teams in this league. Their success is a testament to the hard work and preparation they put into this game. Every week, we pride ourselves in practicing at a very high level, and let the hard work pay off on game day. This has been the reason why we have so many guys that can be called on at any time!  
We have a tough matchup with a very talented offense this week. Adrian Peterson has proven himself as one of the most elite backs in this league. He is a very hard North/South runner – with a lot of break-away speed. When facing a back like this, we need to concentrate on securing our tackles, and containing the edges to eliminate him from bouncing outside for a big run.
Regardless of who lines up under center, we need to focus on playing against offensive schemes. Ponder, Cassel and Freeman are loaded with talent and capable of putting up big numbers against us. The moment we get caught peeking into the backfield, we will get burned. We need to maintain our coverage, play against the ball, and let the rest take care of itself.
I am excited to return home and play in front of our 12's on Sunday. We are ready to strap it up and take on this very talented Vikings team. We realize the importance of heading into a bye week with momentum, and look to go out and do so. I hope you 12's are ready to bring the noise – I know we will be!