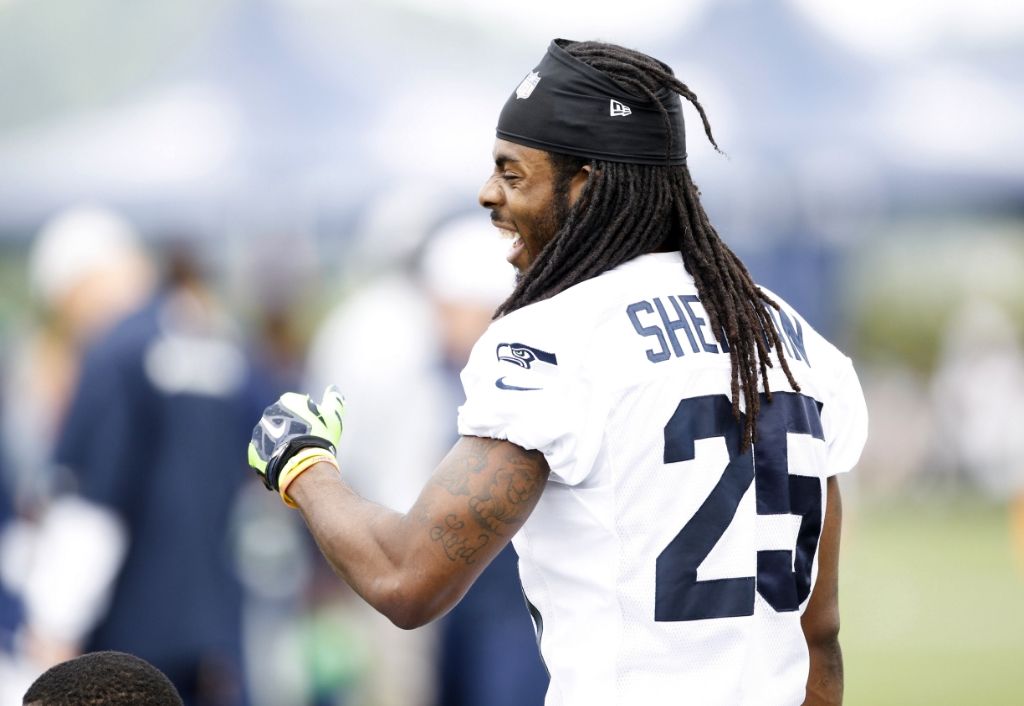 08.27.14
Couple of Thoughts
Posted by:
Richard Sherman
-Everyone always ask if the preseason seems to drag but not really, it's part of the process, part of the growing process. Guys are still working for roster spots, guys are still working hard trying to get their technique together. So it's not dragging at all for us.
-We've been getting a lot of praise this preseason for not having any holding penalties. I'm not sure why, we didn't adjust anything. We've been playing the game the right way. We continue to play it the right way. Everybody just complains and whines about us breaking the rules, etc., etc. Apparently they break the rules a lot more than we do. So it's just funny to watch it. The same thing that makes you laugh makes you cry. So it makes us laugh.
-Phillip Adams at nickel, he's looking smooth. He's good with his technique. He understands the defense. He understands where he's supposed to be. Whenever you understand your role like that you have a great chance of making plays and being in the right spots.
-Was asked recently what my first impression of Earl was; I thought he was a passionate football player. I thought he was a guy who is very focused on his end goal and a guy who plays the game the right way and not much has changed since then. He's still a guy that plays the game the right way. He studies diligently and he does everything he's supposed to do to be a great player in this league. His practice habits are outstanding. It translates into the game. He plays at a different speed than everyone else.
-Been really impressed with what I've seen on the offensive side of the ball. They've been really explosive. They've been incredible getting the ball down the field. They've been great with converting third downs and just making things happen. They look very comfortable out there and very smooth.
-Our receiving group is deep, I think they've always had depth. I think our receiving corps has always been underrated and they've always shown up in big games when we needed big plays. They're always there to deliver them. Whether it's Doug, Kearse, Percy, whoever it may be, whoever we need to make a big play, makes it.
-I believe a great deal of the offensive success can be attributed to Russell. He's going through his progressions. He's making the right read and he's minimizing negative plays as he calls it. When he doesn't have anything, he'll run for three, four yards and that's a big deal and keeping it to the third and threes, the third and twos, the third and shorts. You're always going to keep those and then converting them. So I think they're all doing a great job.
-Everyone is always asking how this team turns late-round talent into great ball players, but I couldn't tell you, I couldn't tell you. That's all I want to say. We just work hard at our technique and what we're asked to do. I think guys come in here and they're given certain instructions and they're following the instructions "to-a-T." It simplifies the game for them.
-Life hasn't changed much since winning the Super Bowl, not much at all. Obviously people want more of your attention and your signature and things like that but not much otherwise.
-The Super Bowl was special, but don't want to call it the  pinnacle of my career. It feels like we have got more to go, more to accomplish, more things to do. I don't think anybody on our team is complacent with one championship.
-They say we can't win another Super Bowl this year, but we've never cared about people's opinions and it doesn't really change now. Guys have always had their opinions. I'm sure a lot of people didn't pick us to win last year. It doesn't matter to us. They don't get any criticism when they get it wrong so they have no reason to really study it and nail it on the head so who knows what will happen. We will go out there and give it our best shot and put our best foot forward.