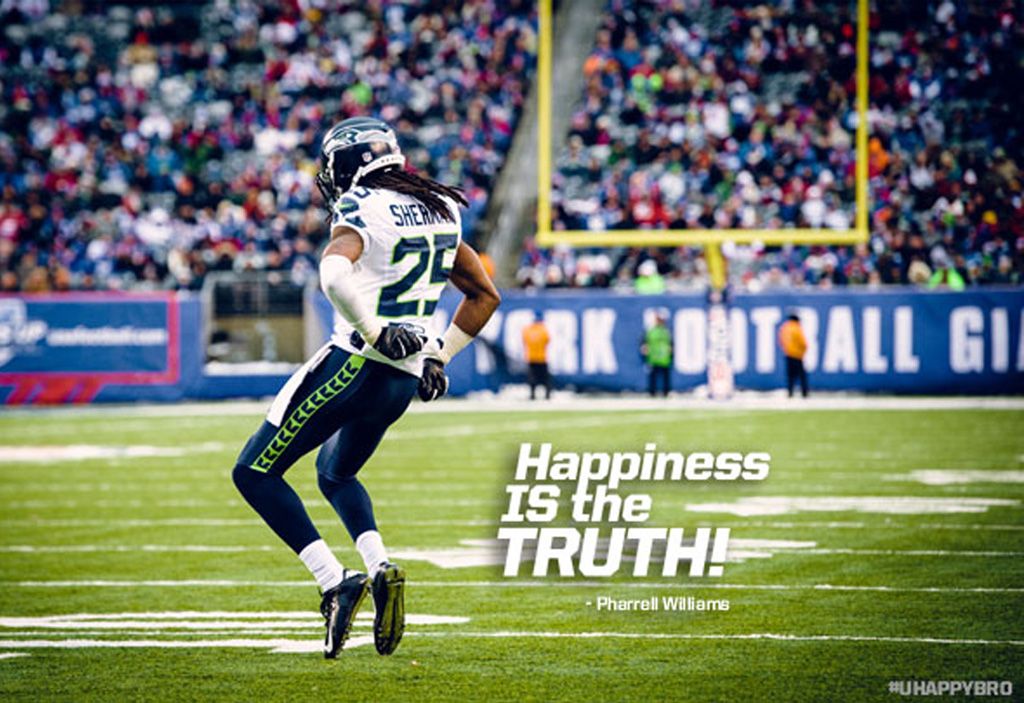 03.31.14
A Very 'U Happy, Bro?' Birthday
Posted by:
Richard Sherman
Sunday is Richard Sherman's 26th birthday, and the Seahawks' All-Pro cornerback has so many reasons to be happy – starting with that Lombardi Trophy he helped his team win last month.
Sunday is Richard Sherman's 26th birthday, so we have to ask: U happy, bro?

Of course he is, because the Seahawks' accomplished cornerback has achieved so much since joining the team as a fifth-round draft choice in 2011. So much so, that it's impossible to find just the right gift for his birthday.

An All-Pro berth? Been there, done that – twice in his three-season career.

A Pro Bowl berth? He finally got that in December; although he didn't get to play in the NFL all-star game because he was too busy preparing to help the Seahawks win the Super Bowl.


An NFL interception title? Sherman also got that last season, when he picked off eight passes. In fact, his 20 interceptions since 2011 also top the league.

His picture on the cover of Sports Illustrated? Sorry, that happened… twice. Once in late July before training camp in 2013 and then the week after his "Immaculate Deflection" in the end zone iced the Seahawks' victory over the San Francisco 49ers in the NFC Championship game.

How about a totally off-the-wall honor? Again, been there, done that; as he won the Cartoon Network's "Captain Clutch" award.

Maybe rubbing elbows with some celebrities? Too late, again. Since the Seahawks won the Super Bowl on Feb. 2, Sherman has had his picture taken with everyone from Kate Upton to Condoleezza Rice.

What about an outpouring of unadulterated love from the team's 12th Man fans for, say, three or four hours? That happened during the celebration parade through the streets of Seattle three days after the 43-8 romp over the Denver Broncos in Super Bowl XLVIII.

So much attention in such a small amount of time. Sherman will simply have to settle for happy birthday greetings, and a wish for a repeat performance in his 27th year.
Source:
http://www.seahawks.com/news/articles/article-1/A-very-%E2%80%98U-happy-bro%E2%80%99-birthday-to-Richard-Sherman/1b396b24-f029-4b7a-99a5-2c1d655f6f50
March 30, 2014 - by: Clare Farnsworth