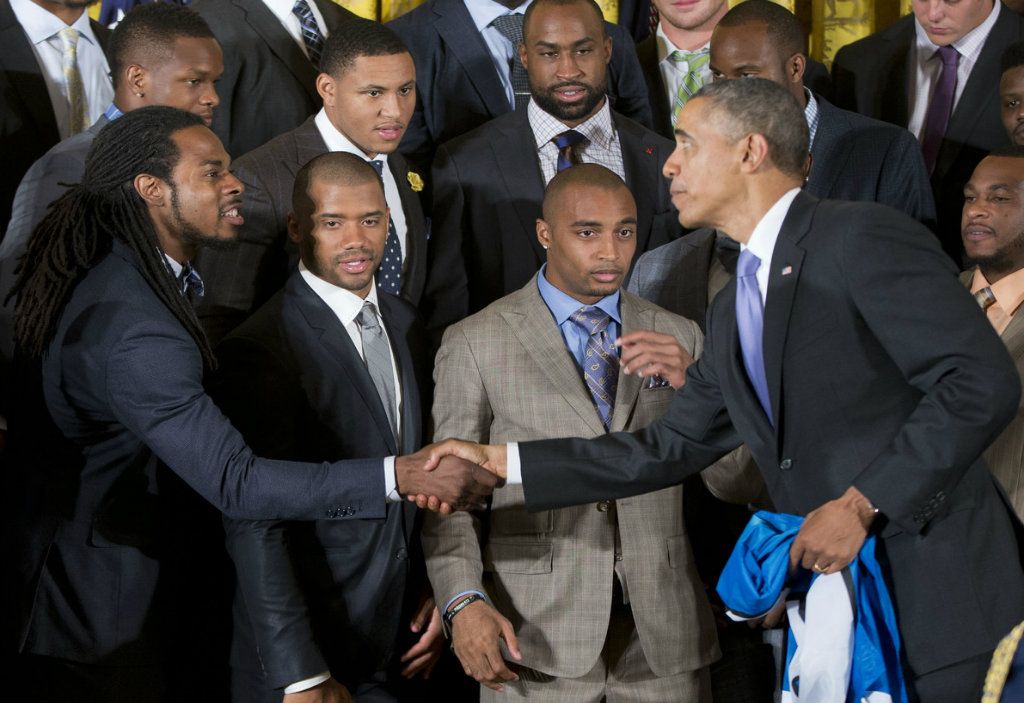 05.22.14
Obama & Sherman: Some fun at the White House
Posted by:
Richard Sherman
WASHINGTON — President Barack Obama had the podium in the East Room, but of course he shared the spotlight with Richard Sherman as the Seattle Seahawks were honored for their Super Bowl XLVIII victory.
"I considered inviting Sherman up here to the podium today," said Obama, standing a few feet from the Lombardi Trophy.
"I'd have given him the mic, but you know we've got to go in a little bit," he quipped.
Sherman, the all-pro cornerback who grabbed attention with bold, brash remarks after his team's NFC title win over the San Francisco 49ers last season, also attended the recent White House Correspondents' Dinner. President Obama mimicked him at that dinner, with a reference to CNN correspondent Jake Tapper.
"Sometimes I do feel disrespected by you reporters," said Obama. "But that's OK. Seattle Seahawk cornerback Richard Sherman is here tonight. And he gave me some great tips on how to handle it. Jake Tapper, don't you ever talk about me like that! I'm the best President in the game!"
In his remarks Wednesday, the President went beyond Sherman's style.
"He grew up in Compton (Calif.) with some wonderful people but also with gangs and drugs and guns. His dad had to wake up at 4 a.m. every day to drive a garbage truck," said Obama.
"But because of his dad's hard work and his family and his mom, Richard ended up earning a 4.2 GPA in high school and went to college (at Stanford). ... He showed in his neighborhood that they could make it.
"And if he seems a little brash, it's because you've got to have attitude sometimes if you are going to overcome some of this adversity. And the fact that he still goes back to inspire high schoolers for higher goals and making better choices, that's all-star behavior."
The President often welcomes championship teams in the Rose Garden. Due to uncertain weather, the ceremony was held in the East Room, where the Super Bowl trophy reflected the ornate chandeliers.
The Seahawks — big men in coats, ties and shined shoes — crammed shoulder-to-shoulder on a three-tiered riser behind the podium.
Obama lamented that running back Marshawn Lynch was not in attendance. Lynch rarely speaks to reporters.
"He's not here today, but we've got to give props to 'Beast Mode,' Marshawn Lynch," said the President.
"I am sorry that Marshawn is not here because I just wanted to say how much I admire his approach to the press. I'd like to get some tips from him."
Dave Pearson, Seattle's vice president of communications and broadcasting, said Lynch was among a few players who did not attend. He said some had commitments but was uncertain in Lynch's case.
"No specific reason (for Lynch) that I'm aware of," said Pearson. "It kind of came together, and he wasn't in Seattle at the time."
In 2009, Pittsburgh Steelers Super Bowl hero James Harrison also declined the trip.
"I don't feel like it's that big a deal to me," said the linebacker at the time. He added that if Pittsburgh hadn't pulled out the win over the Arizona Cardinals, "He (Obama) would have invited Arizona."
The President pointed out that Russell Wilson became the second African-American quarterback to win the Super Bowl.
"The best part about it is nobody comments about it," said Obama.
He also noted that many Seahawks were lower draft picks or not drafted at all.
"As a guy who was elected President named Barack Obama, I root for the underdogs," said Obama.
"So seeing folks overcome the odds excites me, but it also excites me when you see the whole being greater than the sum of its parts, and that's what team is all about."
The President did turn the podium over to Seattle coach Pete Carroll.
"Thank you, Mr. President," said Carroll, who quickly added, "I can't believe I'm saying that."
Carroll talked about the togetherness of his team.
"We were looking to celebrate uniqueness and differences, and this is a different bunch of guys, I'm going to tell you," he said. "They've come together, and they've shared a unique mission and goal. It was special and we're really proud of it. And I hope we can continue to demonstrate that these guys are that kind of people."
The Seahawks could face longer odds of getting back next year than some other teams who've become Rose Garden regulars.
Last month, the Naval Academy football team visited for the ninth time in 11 years as winners of the Commander-in-Chief's trophy (for winning its series with Army and Air Force).
"If you guys have your punch cards with you, the next one is free," the President told the Midshipmen.
In 2013, the Alabama football team was honored for the third time in four years as national champs. "I was thinking about just having some cots for them here, they're here so often," said Obama.
But no team has repeated as Super Bowl champion since the New England Patriots in the 2003-2004 seasons. The last nine Super Bowls have been won by seven different teams.
However, Wednesday's ceremony was about what the Seahawks did accomplish last season. With their fans in attendance, there were loud cheers as Obama listed some of the team's accomplishments.
"I don't need to tell you how outstanding the Seahawks are because they did a pretty good job of describing themselves," kidded Obama, who was presented a "12th Man" flag saluting Seattle fans.
The Seattle defensive backfield is called the "Legion of Boom." Obama praised that unit, and Carroll also mentioned them.
"I do know that you have access to some of the great special forces anywhere, and you can do whatever you need to do," said Carroll. "But I want you to know that just a phone call away is 'The Boom.' "
Source:
by GARY MIHOCES / USA TODAY Sports
http://www.king5.com/sports/seahawks/Pres-Obama-Richard-Sherman-260162761.html?ref=prev