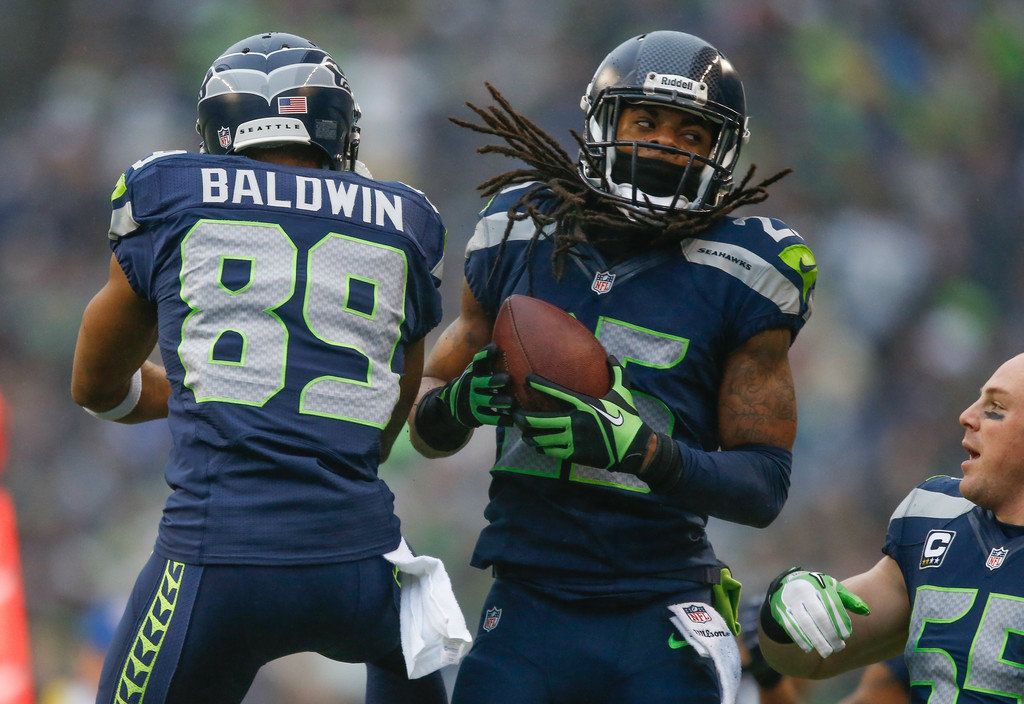 05.30.14
Sherman Interviews Baldwin Jr
Posted by:
Richard Sherman
Seattle Seahawks wide receiver Doug Baldwin was pelted with questions from the media Thursday when the team announced he had signed an extension through 2016.
But the best exchange may have happened at the end between Baldwin and the newest member of the Seahawks press corps: a young, up-and-coming reporter named Richard Sherman who moonlights as an All-Pro cornerback for the Seahawks.
"What's the next evolution of your game? I know that you returned punts in college and, you know, my insider source said you were working on that. What's the next evolution of your game as an NFL wideout?" Sherman asked.
Baldwin was ready to fire back at his former Stanford teammate.
"I do believe I burnt you on an inside go for a one-handed catch two days ago, didn't I?" said Baldwin, referring to the Seahawks OTA workouts happening this week. "So, it's on film."
Then, Baldwin said something that's sure to heat up the special teams talk heading toward the season.
"I've been pushed to say this. I will go ahead and throw my name in the hat for punt returner for this year. I did have a conversation with (head coach) Pete Carroll about this," said Baldwin.
Carroll said earlier this week that safety Earl Thomas would be primary punt returner if the season started today. Golden Tate had the job last season, but has moved on to the Detroit Lions.
Baldwin has returned eight kickoffs in his career, but no punts. He has mainly served in a defensive role on special teams.
"I love acting like a defensive back on punt returns and showing Richard Sherman that I'm better than him at life," said Baldwin, jokingly making a reference to an infamous on-air tussle between Sherman and sports commentator Skip Bayless last year. Baldwin said even if he were to return punts, he wants to continue his other special teams duties, too. "We're not just receivers here in Seattle, we're football players," said Baldwin. "All of us play special teams. All of us love to play special teams and I think that attributes to our team's success is that we're willing to be selfless in giving ourselves to special teams because, ultimately, that's what we love to do."
Carroll clarified that he asked Baldwin if he was interested in returning punts, to which Baldwin said he would do whatever was asked.
Source:
by TRAVIS PITTMAN / KING 5 News
http://www.king5.com/sports/Doug-Baldwin-Richard-sherman-exchange-261158601.html