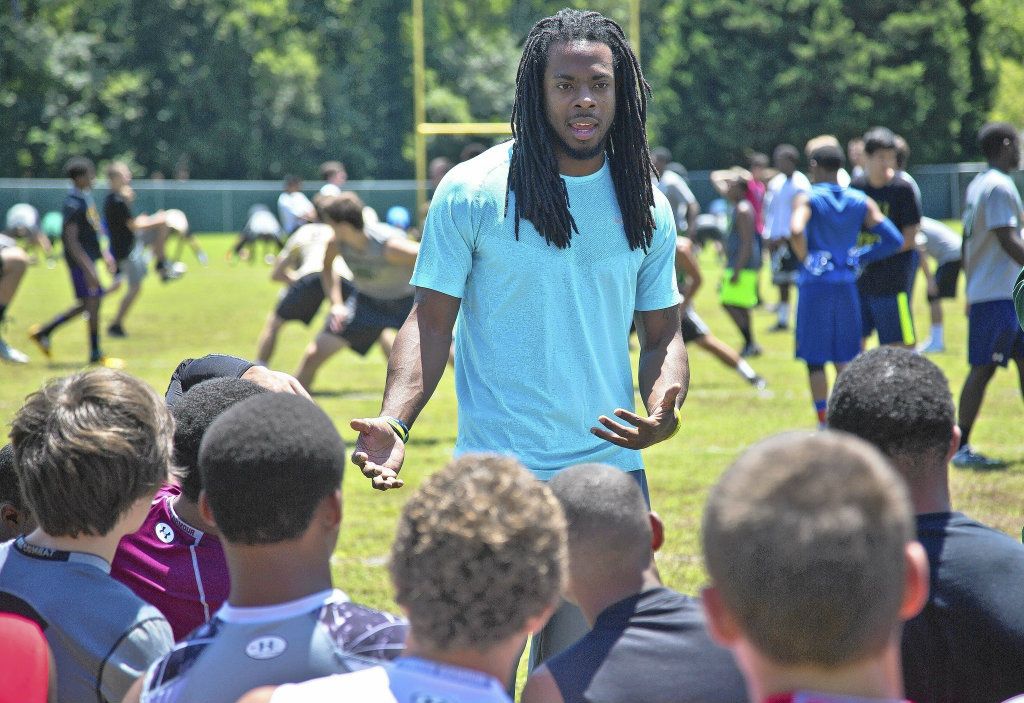 07.08.14
Sherman Mentors Defensive Backs
Posted by:
Richard Sherman
BEAVERTON -- Isaiah Langley was backpedaling on the turf at the Ronaldo Field at the Nike Headquarters on Tuesday afternoon when he noticed the ball sailing toward the receiver he was covering. So Langley, a cornerback from California and an Oregon target in the class of 2015, bolted in and tipped the pass away in the one-on-one drill.
Before Langley could celebrate his nifty play, though, a new mentor met him a quick bit of criticism.
"Hey man, if you want to make minimum wage keep doing that," said Seattle Seahawks cornerback Richard Sherman, who served as a coach at Nike's The Opening. "But as a cornerback in the NFL, you got to catch the ball."
And while the Pro Bowl cornerback leveled his critique, Langley couldn't help but feel tremendous pride. Langley, like many of the nation's other defensive backs at The Opening, took advantage of the opportunity learn from Sherman and Cardinals Tyrann Mathieu on a toasty afternoon in Beaverton.
Former Indianapolis Colts coach Tony Dungy was in attendance at the Nike Headquarters, too, and he spoke to the players in attendance at the end of an afternoon training session.
"It was a pretty cool experience," said Mook Reynolds, a four-star cornerback committed to Virginia Tech. "Guys who coach in the NFL coach the best, guys who play in the NFL play against the best. Getting the insight from them and taking the experience they've earned and giving it to us, I'm pretty sure made me a better player."
Marvell Tell, a four-star safety strongly considering Oregon, said that Mathieu and Sherman were two of his favorite players in the NFL.
"Those are people we all look up to as football players," Tell said.
Mathieu spoke to the defensive backs early in the afternoon during a break in training and Richard Sherman hit the field a bit later — and was especially vocal when he did. The attendees said Sherman was constantly providing tips on footwork and head positioning, and the Super Bowl champion often sprinted onto the field to congratulate cornerbacks who kept receivers from breaking free.
Langley and Reynolds both admired Sherman's passion, and hoped to model their game after the NFL star.
"He's a dawg. He plays with a lot of intensity, a lot of fire," Reynolds said. "I don't talk as much as he does, but he is a great player."
For Langley, who decided to commit to playing cornerback in college instead of wide receiver after his first visit to Oregon, being around players like Sherman and Mathieu make him believe he made the right choice. Sherman's going to be on the cover of the NFL Madden video game this year, and Mathieu was a Heisman Trophy finalist at LSU.
So Langley could glance to the sideline Tuesday afternoon for proof that defensive players can garner praise and make an impact on the field.
"Those are just my two favorite players hands down," Langley said. "Sherman was talking to me and coaching me up. It was a wonderful experience."
Tell feels the same way. The Ducks recruit remembered a play Tuesday when he got beat by a receiver and turned his head to try and time the pass coming his way.
Afterward, Sherman told Tell that he did the wrong thing. Instead, Tell should have sprinted to catch up to the receiver and turned to look only after the offensive player did.
Tell said he's a humble, coachable player. If any coach had given him that advice, the California native said he would have listened.
But even so, when Sherman tossed out his opinion, Tell was a touch more focused than usual.
"I know he's in the same spot I want to be in in the future," Tell said. "So I definitely take in his words."
Source
By Aaron Kasinitz
http://www.oregonlive.com/recruiting/index.ssf/2014/07/richard_sherman_other_notable.html