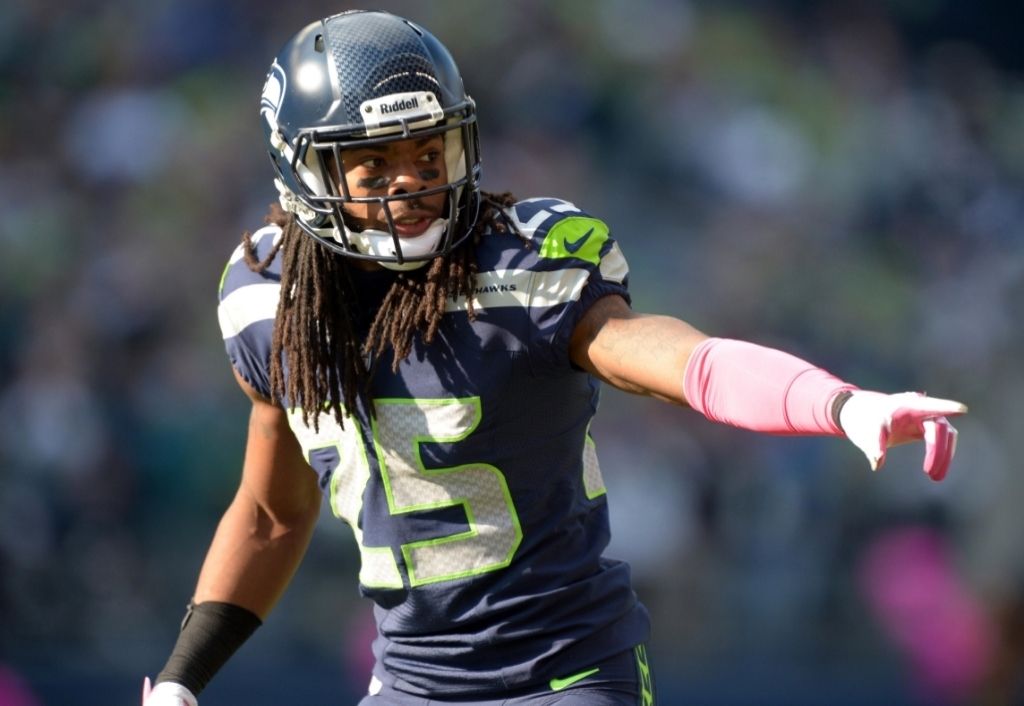 Richard Sherman on lack of Seahawks turnovers: "We'll find our rhythm and we'll be fine"
POSTED BY: RICHARD SHERMAN in NEWS
Where have all the interceptions gone?

After notching an NFL-high 28 picks last season, the Seahawks' defense has recorded just two picks through their 3-3 start - a number that puts the team on pace to put up five picks in 16 games.

To put their current mark in perspective, the Seahawks had nine interceptions through six games last season - three by cornerback Richard Sherman, three by free safety Earl Thomas, and one each from strong safety Kam Chancellor and linebacker Bobby Wagner. Chancellor has one of the team's two picks this year, but his "Legion of Boom" teammates Thomas and Sherman have been shutout in the category.

So what gives?


"We haven't changed much of our game," Seattle's All-Pro cover man Sherman told a pool of reporters on Wednesday at Renton's Virginia Mason Athletic Center. "I think the plays are there to be made, we just haven't made them. Balls haven't bounced our way, as indicative of what happened at the end [of this past Sunday's game against the St. Louis Rams] - even when the ball does bounce your way, it doesn't bounce your way.

"You don't catch the breaks every year and this year we just haven't caught the same breaks that we caught before. We've got to play better football and I think that's coming in the future."

Sherman's picks have taken a dip as opponents throw to his side of the field less often than they have in the past. The team saw evidence of that in Week 1 against the Aaron Rodgers-led Packers when instead of throwing Sherman's way, Rodgers repeatedly went after cornerback Byron Maxwell on the other side of the field. Eventually, Maxwell made the Packers pay, coming out on the receiving end of a ball that had slipped through the fingers of Packers wideout Jordy Nelson for the Seahawks' first interception of the year.

The Seahawks also haven't been able to generate much of a pass rush this season, bringing down the quarterback just seven times (T-27th NFL). Sherman doesn't think the lack of quarterback pressure has affected the way the Seahawks' secondary operates, but did acknowledge areas the front and back ends of the defense can polish.


"I don't think we've felt like quarterbacks have had extra time or anything like that," said Sherman. "It's been tight coverage, they've gotten the ball out fast, but rush and coverage has to work together. We have to find a way to stop those short passes and get them to hold the ball a little longer and that's what we're going to continue to work on and continue to improve on."

Since Chancellor's game-altering pick of Denver Broncos quarterback Peyton Manning in Week 3, the Seahawks' interceptions have run dry. The strong safety's pick marks the Seahawks' only takeaway through the air in the past five games.

The popular saying in NFL circles is that turnovers come in bunches. Of that, Sherman says he's a believer. And despite the Seahawks' low interception-rate and 3-3 start, Sherman described the mood surrounding the club as "confident," noting the team should start to see the results they like if they maintain the grit and tenacity that served them so well a season ago.

"They do come in bunches and we're waiting for that opportunity," said Sherman. "Because once it starts rolling, it really gets rolling fast and it continues week-in and week-out. I think we've just got to stay after it.

"We'll find our rhythm and we'll be fine."
Source: 
By Tony Drovetto | seahawks.com | October 22, 2014 
http://www.seahawks.com/news/articles/article-1/Richard-Sherman-on-lack-of-Seahawks-turnovers-Well-find-our-rhythm-and-well-be-fine/5a7de100-f07a-4b91-a8d0-79aa851bd601